APHRODITE
2014
Oil on Canvas with metal leaf
24 x 18
The Goddess of Love. Aphrodite was given the golden apple by Paris. … which led to the Trojan War.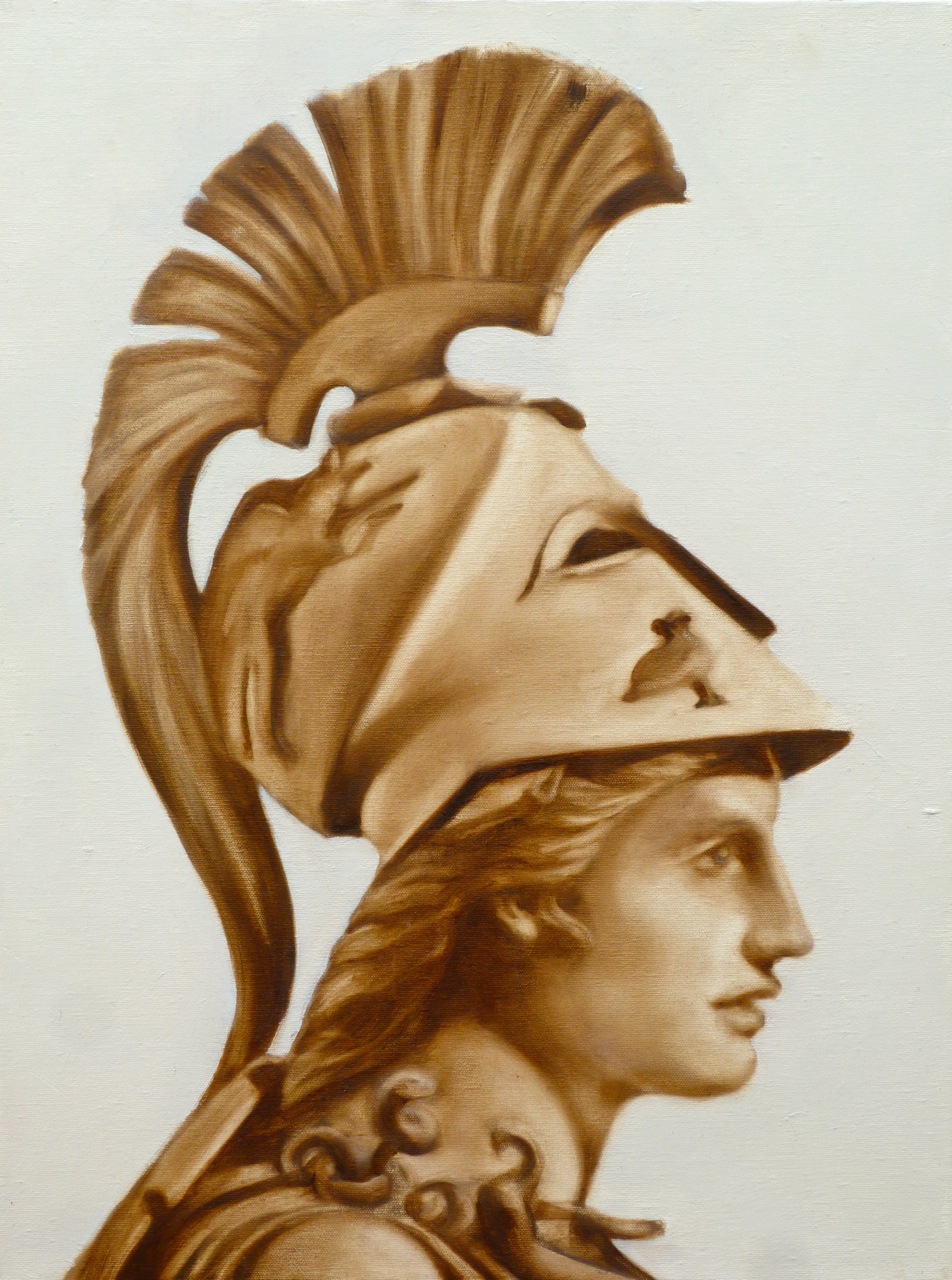 PALLAS ATHENA
2014
Oil on Canvas
24 x 18
The Goddess of Wisdom, Courage, Inspiration, Civilization, Law & Justice, Just Warfare, Mathematics, Strength, Strategy, Arts & Crafts, and Skill. Athena was the Virgin Patroness of Athens. & pretty badass.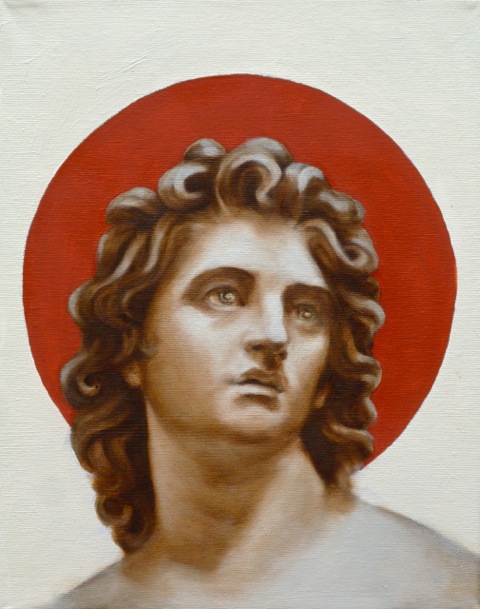 HELIOS (left)
2014
Oil on Canvas
14″ x 11″
Helios was the personification of the sun, the God of Light. Each day he would drive his fiery chariot across the sky.
—-
DIONYSUS (right)
2014
Oil on Canvas
14″ x 11″
The god of Wine, Winemaking, Ritual Madness, Ecstasy and Fertility. Patron of the Arts.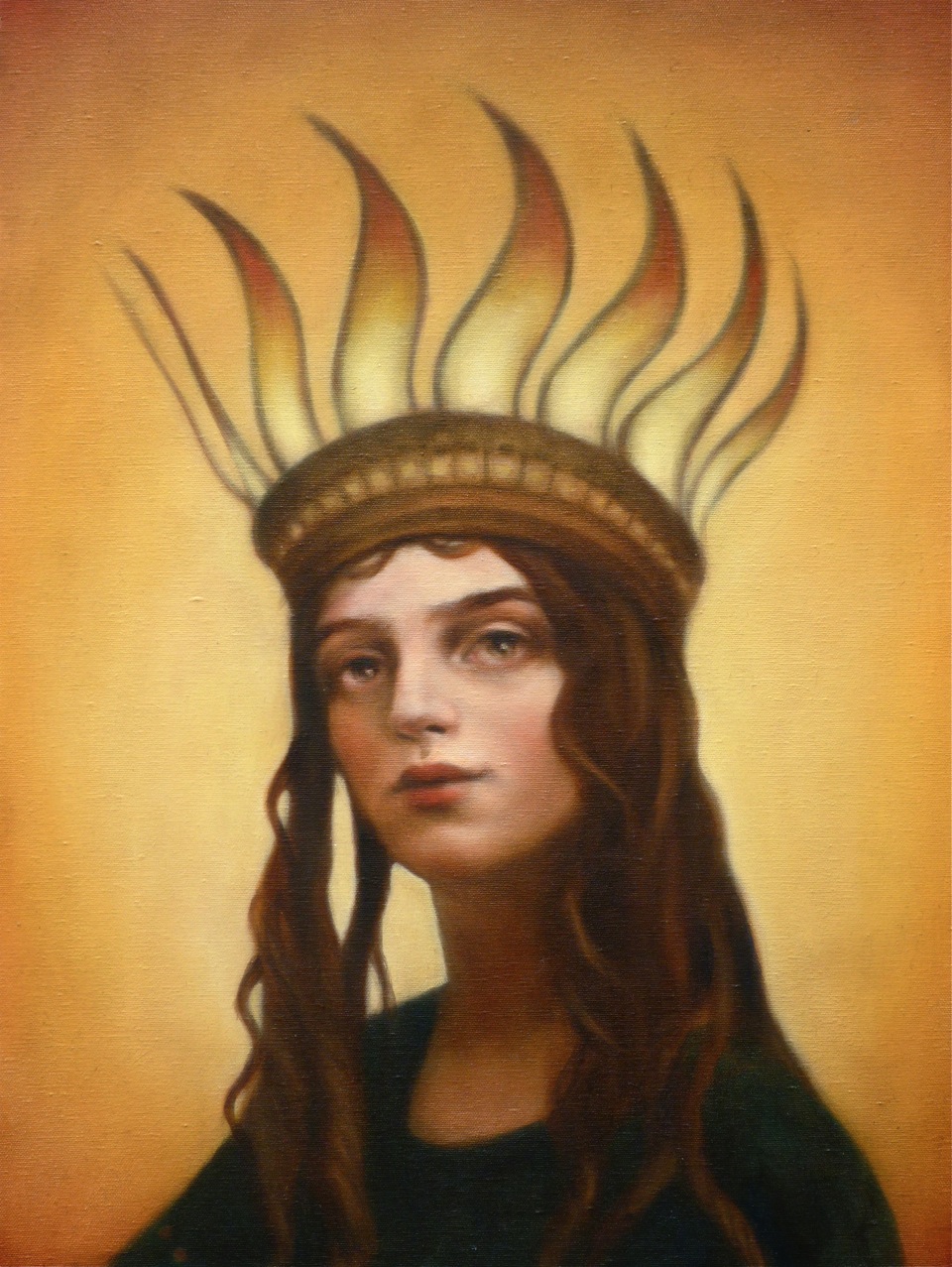 HESTIA
2014
Oil on Canvas
24 x 18
The virgin Goddess of the Hearth. Of all the Olympian Gods, Hestia is the mildest, most upright and charitable.
ACHILLES
2014
Oil on Canvas
24 x 18
Greek hero of the Trojan War. A demigod, Achilles had been made invulnerable by being dipped in the river Styx. The only vulnerability that remained was the heel by which he was held while the water rushed over him.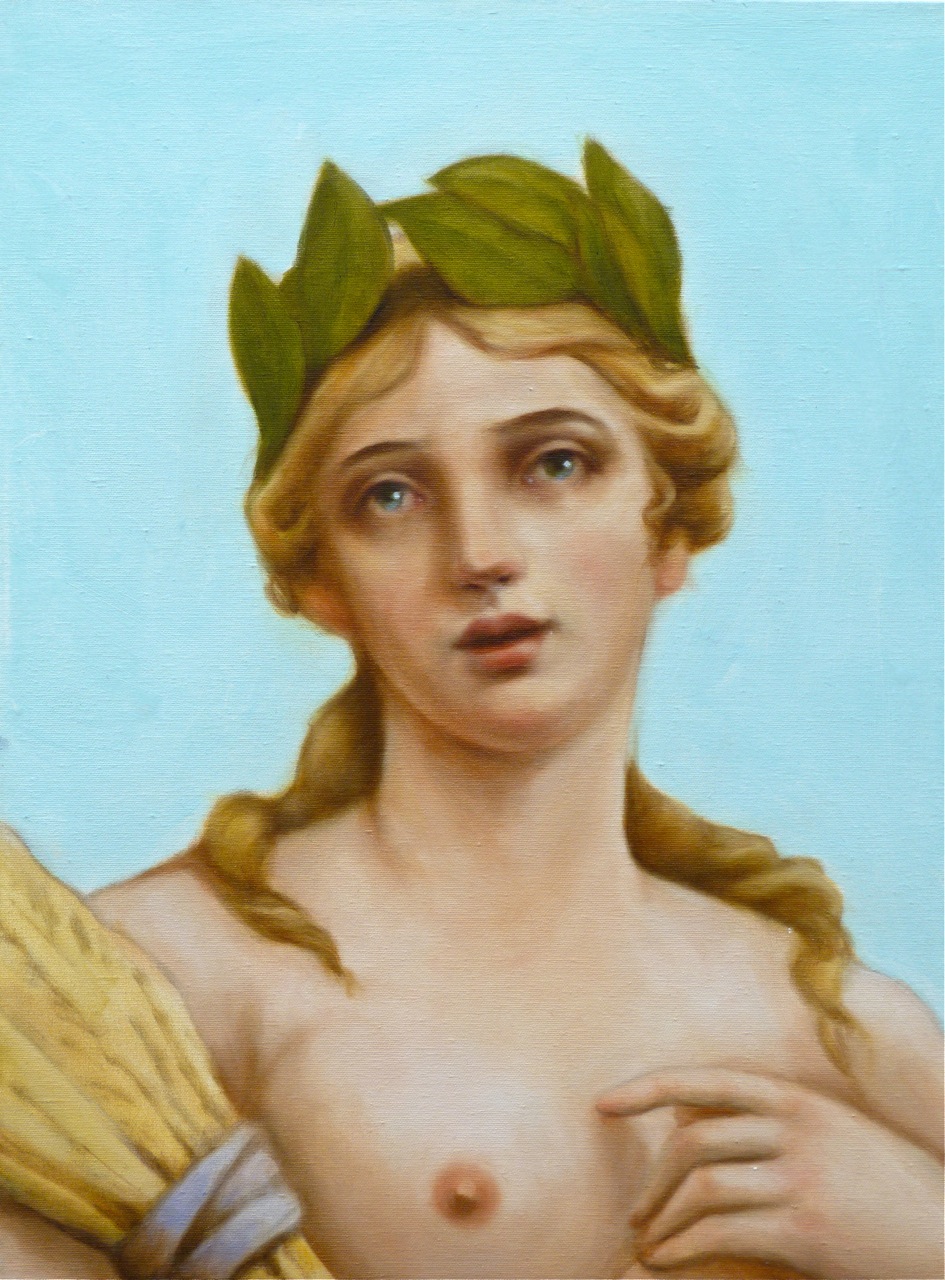 DEMETER
2014
Oil on Canvas
24 x 18
Goddess of Fertility / Harvest. Demeter presided over the cycle of life and death. Persephone was her daughter.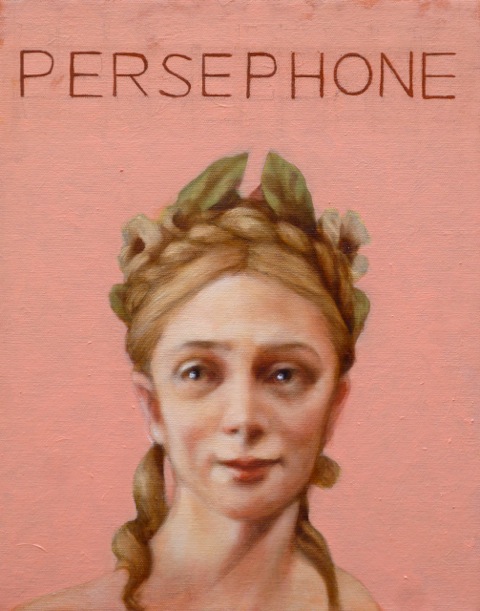 MELITTA (left)
2014
Oil on Canvas
14″ x 11″
A Nymph that discovered and conceived the use of honey.
——–
PERSEPHONE (right)
2014
Oil on Canvas
14″ x 11″
Persephone was carried off by Hades and made queen of the underworld. Her mother, Demeter, refused to let the earth produce its fruits until her daughter was restored to her, but because Persephone had eaten some pomegranate seeds in the other world, she was obliged to spend part of every year there. Her story symbolizes the return of spring and the life and growth of grain.
EROS
2014
Oil on Canvas
24 x 18
God of Love. With arrows of gold and lead he could wound both gods and mortals alike; golden arrows inspired love, lead caused distaste.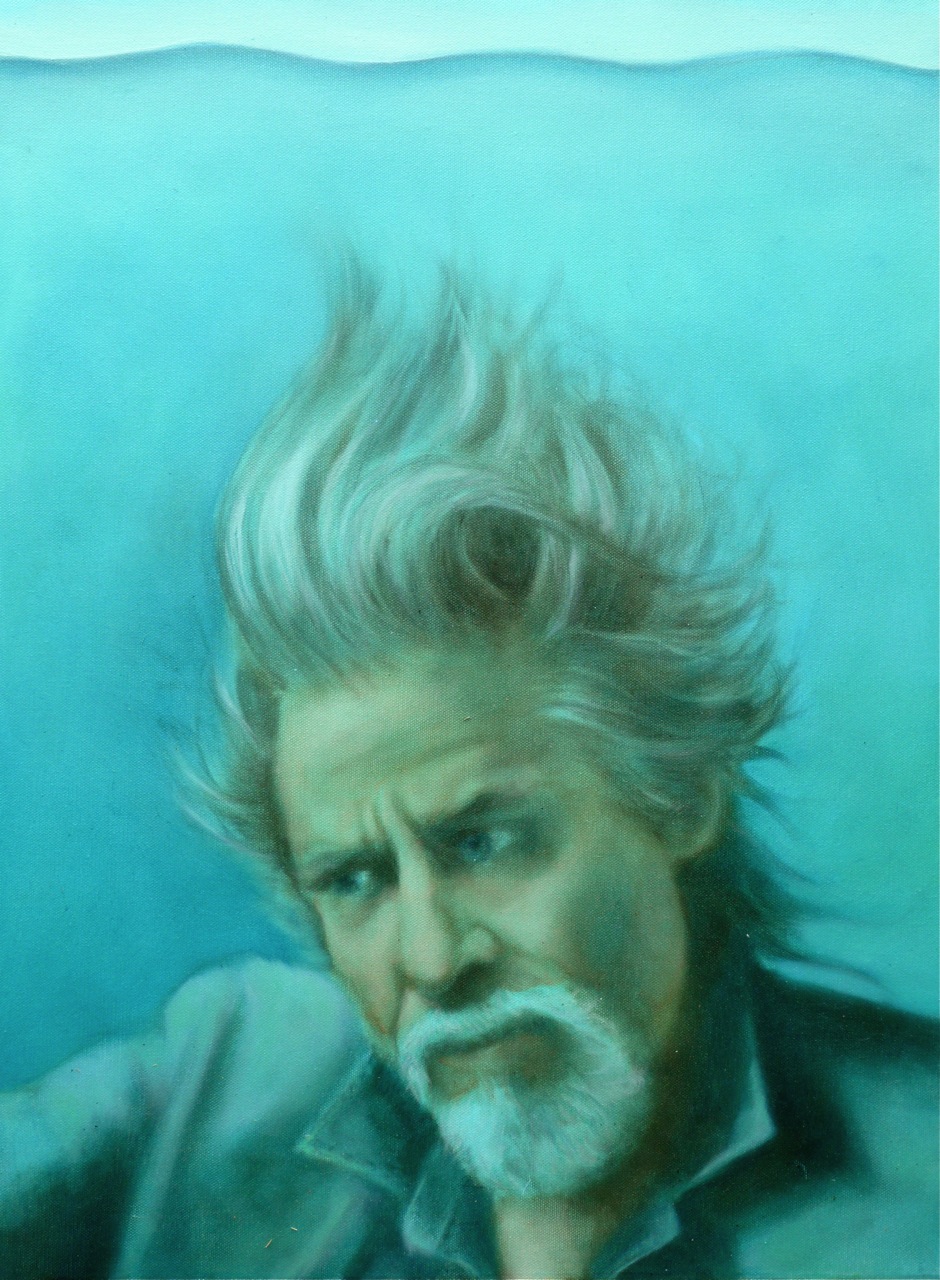 POSEIDON
2014
Oil on Canvas
24 x 18
One of the twelve Olympians, the God of the Sea, protector of all water. Poseidon was also referred to as the Earth Shaker.
NEREID
2014
Oil on Canvas
18 x 24
One of the fifty daughters of Nereus & Doris. Nereids were attendants to Poseidon and were helpful to sailors fighting perilous storms.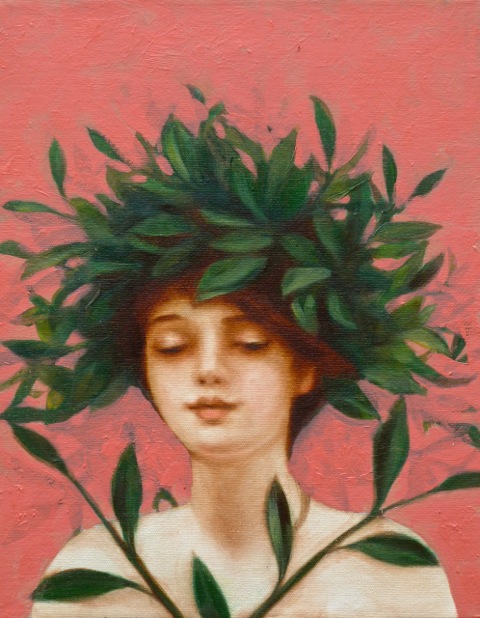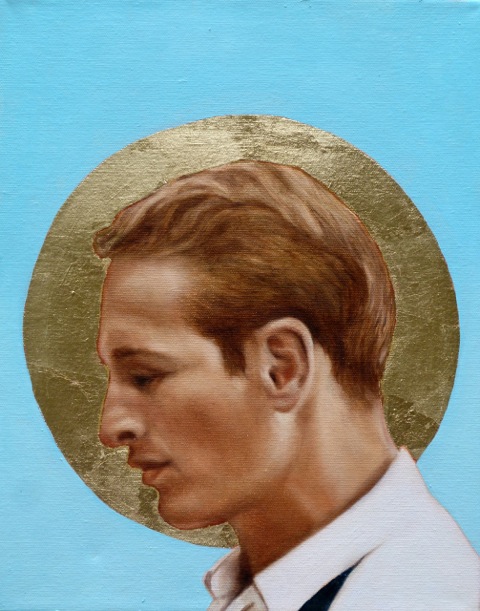 DAPHNE
2014
Oil on Canvas
14″ x 11″
To escape Apollo's amorous pursuit, the Naiad Daphne was transformed into a Laurel tree (Laurus Nobilis).
—
HELIOS / APOLLO
2014
Oil on Canvas, with metal leaf
14″ x 11″
The God of Light, Truth, Prophecy, Music and Poetry. Apollo was the only other God who could fill in for Helios when the need arose.
About "Oh My Gods"
This is the third installment of an ongoing series called Out of Our Heads. Part III focuses on Greek gods & mythology. I was interested in contemplating what makes god & myth, playing with contemporary ideals versus classical. I think of them as a hybrid of advertising & fine art, aimed at resurrecting ancient mythologies. Some are famous, some more obscure. Images of ancient statuary such as Achilles & Athena are juxtaposed with contemporary promotional photographs. A 1970s Jerry Hall, a 60s Paul Newman & a 90s Danish ballet dancer (as well as a few others you may recognise). I was drawn to these Hellenic stories, because they are gods of imperfection, with human faults & frailties, compromised not of one supreme god, but an interlocking web, or soap opera, of major & minor players.